---
330 Series CALTRANS Enclosures
Southern Manufacturing offers 330 series enclosures to the traffic industry, as well as CCTV, ITS and DMS enclosures.
download our 330 enclosures brochure. Traffic style enclosures have police doors while non-traffic styles omit this feature. Southern can also provide the internal racking systems for most 170/2070 requirements.
We have, as standards, the 332, 336. 336S, and 340 quad door enclosures. All of our 330 series enclosures conform to the latest specifications issued by CALTRANS and Florida DOT.
These enclosures are constructed from either 5052 aluminum or stainless steel with double-flanged door openings and Neoprene cellular gaskets to ensure a weather-tight seal. The enclosure comes with butt hinges on each door (CALTRANS) and a three point locking system, which secures the door at the top, bottom and center. #2 locks are standard but other keys and Best Locks are available.
In addition to standard ITS enclosures we can customize the wiring in the enclosure to match your exact specifications. All of our CALTRANS series enclosures are NEMA 3R rated, DOT and UL approved, and can be custom designed to meet your exact requirements.
As a leading manufacturer of traffic enclosures, illuminated street name signs, blank out and lane control signs in the U.S., Southern Manufacturing has a history of quality and reliability that dates back to 1939.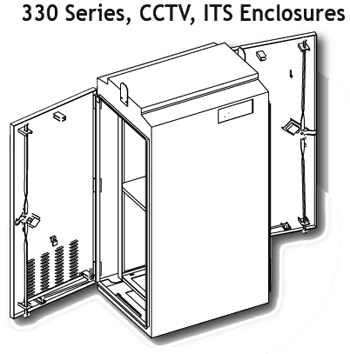 ---
To talk with a Southern representative please call us at (800) 866.5699 or email us at Southern Manufacturing.